Laal Ishq3…Red Love… Part 8
Dharam was frustrated about what Meera said.
Dharam:This girl is so immature.How can she even think like that about me when all other girls of her age group go behind young stylish boys.I need to talk to her.But how?
Sunday morning…
Manav entered the bathroom to bath.
Archana got inside.
Arch:Manav..you are going to bath?Oh no.I wanted to bath now.
Manav:It's ok you bath.
Arch:But you are going to bath now.Then how can I bath now?
Manav replied with a naughty smile:Archu..we are husband wife.We bith can bath at the same time.We can bath together and save time.
Archana blushed:Manav…in this age also you are naughty.I am going.
Archana turned back to go.But Manav puller her closer and opened the shower.
The water fell over them.
Chehre mein tere
Khud ko main dhundun
Aankhon ke darmiyan
Tu ab hai iss tarah
Khwabon ko bhi jagah na mile
Manav Archana looked at each other passionately.
Yeh mausam ki barish
Yeh baarish ka paani
Yeh paani ki boondein
Tujhe hi toh dhundein
Manav:This is our bathroom rain.Let us romance in the bathroom rain.
She blushed.
Yeh milne ki khwaahish
Yeh khwaahish purani
Ho puri tujhi se meri ye kahani
They got cozy with each other.
Yeh mausam ki baarish
Yeh baarish ka paani
Yeh paani ki boondein
Tujhe hi toh dhundein(Half girlfriend).
Meera came out of the church.She was surprised to see Dharam in the compound.She ran towards him.
Meera:Dharamji..I can't believe that you came here.
Dharam:I wanted to meet you.I guessed that you would come to church on Sunday.So I came here.
Meera:I am so happy that you came to meet me.Like me you also feel like seeing me.Right?
Dharam's face became dull.
Yeh hosla kaise juke yeh aarzoo kaise ruke – 2
Manjil mushkil to kya bundla sahil to kya
Tanha ye dil to kya ho…

Dharam:Meera…in your age having infatuation towards someone is natural.But you are making a big blunder by getting attracted towards me.
Meera:What are you planning to say Dharamji?That what I have for you is silly infatuation?No.I really love you.


Raah pe kante bikhre agar
Uspe to phir bhi chalna hi hai
Saam chupale suraj magar
Raat ko ek din dhalana he hai
Dharam held her shoulders:Stop it Meera.Try to understand.This relationship won't be right.If I had married in young age I would have had a daughter of your age.Use your brain and think.
Meera:So what?Age does'nt matter in love.Why are you asking me to use my brain when I have a heart?I always think with my heart and my heart is always right.
Meera was in tears.
Root ye tal jayegi himat rang layegi
Subha phir aayegi ho…
Yeh hosla kaise juke yeh aarzoo kaise ruke – 2
Dharam:Meera…how will I make you understand?This is not love.


Meera:So you doubt my love?Now we are in a Church..the most purest place.I swear by God that I love you.
Dharam:Meera…


Hogi hame to rehmat ada dhoop kategi saaye tale
Apni khuda se hai ye dua manjil lagale humko gale

Meera's eyes were full of tears.
Dharam wiped her tears.
Zurrat so baar rahe uncha ikraar rahe
Zinda har pyar rahe ho…
Dharam:Meera..I am sorry if I was harsh to you.But I just want you to accept the truth.
Meera:The truth is that I love you.And one day you will also love me.Wait and watch.
Meera walked away.Dharam stood there helplessly.


Yeh hosla kaise juke yeh aarzoo kaise ruke – 2(Dor).
Annie came out of her guitar class.She was stunned to see Swayam there.
She did'nt know how to react.Swayam smiled surprising her.
Swayam:Annie beti…
Annie:Uncle…
Swayam:I hurt both of you a lot.But I realized my mistake.I won't stand against your relationship with Arjun now.
Annie was surprised:Thank you uncle.But Arjun did'nt tell me this happy news.


Swayam:Because I did'nt tell him.I thought I will surprise him.


Annie:Arjun will be really surprised.
Swayam:You come with me.We both will surprise Arjun.
Annie:Sure uncle.
Annie got inside Swayam's car.Swayam stopped the car at a hilly area.
Annie:Why did you stop here Uncle?
Swayam:Arjun will come here.I told him to be here.
They both got out of the car.
Annie:Where is Arjun?He is not here yet.
Suddenly Swayam got angry:Arjun will not come here.I lied to bring you here.
Annie was stunned:Uncle…
Swayam:Why did you come to my son's life?Why did'nt you leave my son though I asked you to leave him?So you have to be punished.


Annie got nervous:Uncle…


Swayam pushed her off the cliff.Annie fell down screaming.
Vikram cried keeping his head on his grand mother Devyani's lap.
Vikram:When people call me my mother's murderer I can't bear it Dadi.
Devyani wept caressing him:You be strong beta.One day someone will understand your innocence.That person will love you.
Vikram:No dadi.No one will understand me or love me.Everyone hates me.


Devyani wept:No beta.Have faith in God.Everything will be alright.
Anjali was riding his bicycle.She lost balance and fell down hurting herself.
Anj:Ah…
Vikram who passed by saw Anjali in that condition and walked towards her.
Vik:Anjali…are you ok?Oh..you are bleeding.
He took kerchief and wiped her blood.Anjali was staring at him.
Vik:It's not ok.You need to get first aid.My home is near by.I will give you first aid there.
Suddenly he said:Oh..do you have the courage to come with me to my house as I am a murderer?
Anjali looked at him deeply:I will come.I trust you.
They shared an eye lock unknowingly.
Vik:Ok..
Vikram took Anjali home.Devyani came.
Vik:Dadi..this is my college mate Anjali.
Anjali touched her feet.
Devy:God bless you beta.But you are injured slightly.
Vik:That's why I brought her here.I met her on the way.She needs first aid.
Devy:Yes beta.D that soon.
Vikram took the first aid box and put ointment on her wounds.
Anjali was looking at him deeply.
She thought:I can't believe that the person who is bothered so much about a small injury can take off somebody's life.


Anj:Thanks Vikram.
Vik:No need Anjali.
Anj:Vikram…I can't believe that you are a criminal like everyone says.A criminal cannot take care of an injured person.You could have ignored me and went.But you preferred to stay near me though I have only small injury.
Vikram became emotional.
Anj:What is the truth Vikram?
Vik:Stop it Anjali.Just because I showed some concern don't try to dig my past.Understand?


Anjali became sad.
Devyani who over heard it became sad hearing it.She thought:First time someone saw the good side of Vikram.She is the only person who trusts him.Will she be able to make my Vikram happy?Will she the one who can heal his heart's wounds through love?
Anj:Ok Vikram..I am going.
Vik:Ok.
Anjali went out.Devyani went near her.
Deva:Anjali beta..you are the only person who did'nt accuse Vikram of murdering his mother.Only you tried to know what exactly happened.I will tell you everything.


Anjali was stunned.
Deva:Give me your phone number.When Vikram is not there at home I will call you and tell everything.
Anj:Ok dadi.
Anjali gave her the phone number and left.
While making an exit from the college Yuvraj and Anushka noticed a flower shop near their college.
Anu:Flowers are so beautiful.
Yuv:You love flowers?
Anu:Ya.Who does'nt love flowers?
They saw college pairs buying flowers are gifting each other.Anushka smiled.
Anu:Lovers love flowers and flowers play an important role in their love life.Flowers are messangers of lovers.Lovers message their love to the partner through flowers.
Yuv:Since you love flowers very much shall I buy flowers for you?
Anu:Why?I am not your beloved.
Yuvraj looked at her deeply.
seene me Tu rehne laga
thi dhadkane Kal tak jaha..
chalata Nahi khud pe hi Mera zor..
Yuv:But Siddhanth used to love Roli very much.
Anu:But we are not them.
Yuv:We are them.It's just that the time zone is different.

do pal Jo Tu dikhta Nahi .. aakho se pal chubta Rahe..
sabme he Tu..tuzme na koi hor..
They shared an intense eye lock.
ab Teri lakire he hatho par..
Har khwahish meri le chali he Muze.
Anushka turned off her face.
Yuv:Anyways let's go to the flower shop and see.
Anu:Ya sure.
They got inside the flower shop and looked at the variety of flowers.
Anushka smelt some red roses and felt nice.
Suddenly she got flashes from the past life.
Siddhanth and Roli had a silly fight and Roli turned off her face in anger.Sid extended  red roses towards her.Automatically a smile appeared on her face.
Sid:Now please don't be angry with me Roli.


She smiled:Ok..I am not angry my dear Siddhanthji.
Sid smiled.:That's my sweet Roli.


He held her closer.


Sid:You smell like these fragrant roses.
She blushed.


Anushka was awoken from her dream by Yuvraj when he called her.
Yuv:Let's take some selfies.
Anu:Ok.I love selfies.
They both stood near the flowers and took selfies cheerfully.

Teri or..Teri or..Teri or..Teri or.(Laado2).
Somebody saw Yuvraj and Anushka and got shocked.
He:Siddhanth and Roli are alive?But how is it possible?I killed them.
He clicked their photo and went out.He dialed his spy:I sent you a photo.Find out who they are.
Spy:Ok sir.
Druv and Antara were having a long drive.
Antara:It's so nice to have long drive Druv.
Druv:Ya..very interesting.
They reached a jungle.
Antara:Is'nt it a jungle?hy have you brought me here?
Druv:Just to make our long drive thrilling and adventurous.
Antara:What are you saying Druv?It's so scary Druv.
Druv:No Antara.You will enjoy it.
Suddenly the car got stopped.
Antara:Why did you stop here?
Druv:I did'nt stop the car here Antara.It had a brake down.
Antara:Oh no…
Druv leld her hand:When I am there with you why should you be scared?
They shared an eye lock.
Druv:Come out.Let's have some fresh air.
Antara:But Druv…
Druv:Are there animals here?
She looked out and so no animal.
She nodded no.
Druv:Then why are you getting worried?
They both got down of the car.
They walked together.
Slowly Antara smiled feeling the cool breeze.
Druv smiled seeing her sweet smile.
Druv:So finally you started enjoying the jungle walk too.
She smiled.
Druv:But there is no thrill as there is no animal with us.
Suddenly they heard a tiger's roar.Antara got scared and shivered.
Antara:Druv…there is a tiger here.If it sees us it will eat us.How can we escape as our car had brake down?
Druv:Antara…
She embraced him in fear.He embraced her back with a smile.
Suddenly he felt his shirt wet.
Druv:Antara…are you crying?
Antara:Or not?We are going to get separated forever Druv.e are going to die.
Druv felt sad seeing her tears.He wiped er tears.
Druv:No Antara.It was only a prank.There is no tiger near by.
He took his phone from his pocket.
Druv:I put this sound to scare you for fun.But I never thought that it will make you upset.I am sorry Antara.
Antara was stunned.
Antara:You stupid!
She started beating him.
Druv:Oh Antara…it was only a joke.
He knelt down holding his ear:I am sorry…Please Antara..don't be angry.
Slowly she smiled.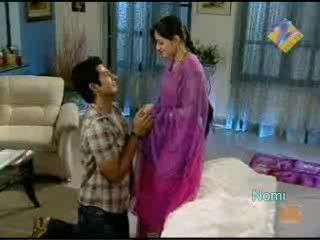 Antara:Can your Antara be angry with you for a long time?
He smiled holding her hand.
Druv:Since you are scared let's go back.
Antara:But how?The car had brake down.
Druv:No.I just said a lie to spend time here.
Antara frowned:You liar!
Druv:Sorry.
Antara:Ok ok.
They walked to the car holding each other's hand.They continued their long drive.
Sumit:Kumkum…get ready.
Kumkum:Why Sumit?
Sumit:Kumkum…we dress up to go out.Right?
Kumkum:We are going out?
Sumit:Yes.Kumkum…we were stressed for many days because of Druv Siya's issue.But now it's time for relaxation.We will go out for dinner…to your favourite restaurant.
Kumkum was surprised:To my favourite restaurant?
Sumit:Yes.
Kumkum:Thanks Sumit.I will order my favourite dishes.
Sumit:Of course yes.That's why we are going there.Eat all your favourite dishes.
Kumkum:But I will become fat.
Sumit:Oh ya.All are saying that because of your slim body you don't look like the mother of three grown up boys.
Kumkum smiled:But today I will eat a lot.
Sumit:That's right.One day if you eat a lot you are not going to become fat.
He pulled her closer embracing her from behhind:My Kumkum is a natural beauty.
She blushed.


Lamhon ke meethi guzarish hai kuch tumse kuch humse
Paas Aao inki yeh khwaish hai kuch tumse kuch humse
Sumit and Kumkum went to a restaurant.Sumit ordered Kumkum's favourite dishes.
Kumkum ordered Sumit's favourite dishes.Sumit was surprised.
Su:Kumkum…
Kumkum:Even if it's my favourite food,I can eat happily only if you also your favourite dishes.
They both smiled at each other.
Tanha wahan tum ho, tanha yahan hum hai…
Aahein wahan niklin..ankhen yahan nam hai…
Their favourite dishes were served.
Sumit and Kumkum ate happily.
Kumkum saw sauce near Sumit's lips.She wiped it with her finger.
Sumit looked at her deeply.
Kumkum:What Sumit?
Sumit:You are looking just like you were during our younger days.
Kumkum blushed:You too Kumkum.
They both smiled at each other.


Pyar ki rasmein toh humko nibhana hai…
Dil ka yeh rishta janmon purana hai… (Kumkum-Ek Pyara Sa Bandhan song).
Classroom…
Meera was thinking of Dharam and Anjali was thinking of Vikram.Both were disturbed.
The lecturer Tanuja:Meera…Anjali..are you both concentrating?
Meera Anjali came back to senses:Yes Ma'am.
Tanuja continued teaching.
After class she went back to the staff room.Lecturer Rishi sat near her.
Rishi:How was the class Tanuja?
Tanu:Rishi…I know that you are trying to flirt with me.But I told you many times not to try that.I am already married.
Rishi:No Tanuja.You were married.Not a married woman now.You are forgetting everything.
Tanuja's eyes got welled up with tears.


Flash back…
Tanuja:Forget me Rishi.I can't go against my father.I have to marry Subbu for my father.
Rishi cried cupping her face:Tanuja..please don't leave me and go.


Tanuja:I have to go Rishi.
Tanuja removed his hands off her and walked away shedding tears.


Rishi broke down crying.

Paas aaye…
Dooriyaan phir bhi kamm na huyi
Ek adhuri si hamari kahani rahi
Aasmaan ko zameen, yeh zaroori nahi
Jaa mile… jaa mile…
Ishq sachcha wahi
Jisko milti nahi manzilein, manzilein…
Subbu Tanuja got married.Tanuja was very upset.

But seeing her father she faked happiness.Rishi cried seeing them as a married couple.

Rang the, noor tha
Jab kareeb tu tha
Ek jannat sa tha, yeh jahaan
Waqt ki ret pe kuch mere naam sa
Likh ke chhod gaya tu kahaan
Wedding night…
Subbu came near Tanuja.She got nervous.
Tanu:Subbu…I want to confess you that I loved someone else.
Subbu was shattered.
Tanu:I know that now I am your wife.I will try my level best to be a good wife.But please give me some time.
Subbu was upset:Ok Tanuja.You take your own time.I will wait for you.


They looked at each other emotionally.
Tanuja tried to be a good wife by cooking Subbu's favourite dishes.
Subbu:Thank you Tanuja for all this.


Tanuja:Please don't embarrass me by thanking.If it was someone else in your place he would have killed me knowing my past.But you are so patient with me.
Subbu:I don't know about others.But I love you Tanuja.
Tanuja felt sad and walked off.
Wedding anniversary…
Subbu:It's been a year since we got married.Today is our first anniversary.
Subbu knelt down showing her a ring.
Subbu:Tanuja…shall we get married again on this special day?
Tanuja became dull.
Tanuja was reminded of Rishi confessing his love to her in past.
Flash back…
Rishi knelt down before Tanuja holding a red rose:Tanuja…I love you.Do you love me?
Tanuja was stunned.She could'nt understand for a few seconds whether it was real or not as she too loved Rishi secretly.But never expressed it.
Tanuja became emotional:I also love you Rishi.I always loved you.But I was nervous to confess it.
She took the red rose from him.
Rishi was surprised and happy.They got into a sweet embrace.
Present…
Tanuja thought:Subbu waited for me for one year.But I gave him only pain.I should not make him upset anymore.I will accept him as my husband and give him all happiness.
Tanuja nodded:Yes.
Subbu became so happy that he put the ring on her finger.
Subbu:When I come back from office we will get married.I can't for that.
Tanu:Ok Subbu.
After some hours Subbu came back.
Tanuja:Subbu..I will get ready.
Subbu:No need Tanuja.We are not getting married.
Tanuja was stunned:But why?
Subbu shed tears:The result of my blood test came.I have blood cancer.
Tanuja was shocked.
Tanu:No Subbu..nothing will happen to you.Don't worry.
Subbu:No Tanuja.Now there is no hope.I don't want you to waste your life by being with me.
Tanuja felt upset:No,i will always be with you.I will get you alright.
She embraced him.Both cried.
Hamari adhuri kahani
Humaari adhoori kahaani…
Hamari adhuri kahani
Humaari adhoori kahaani…
Subbu arranged Tanuja's birthday party.
Subbu:There is a surprise for you.
Tanu:Surprise?
Suddenly Rishi came in.Tanuja and Rishi looked at each other emotionally with happiness as they saw each other after a long time.
Khushbuon se teri yunhi takra gaye
Chalte chalte dekho naa hum kahaan aa gaye

Tanuja:Subbu..what is this?
Subbu:Tanuja…I enquired about Rishi and realized that still he is living in your memories.I want you both to unite.So i brought him here.


Tanuja was shocked.
Tanu:No…I won't go with Rishi.I will stay with you Subbu.You always supported me.Like that i will also support you.
Rishi and Subbu became upset.
Subbu:But I have no time left.
Tanuja:Who said you have no time?I will not let anything happen to you.Trust me.
Subbu:But Tanuja..
Rishi:Subbu…Tanuja is right.Don't decide yourself that it's the last phase of life.You both need each other now.Tanuja's decision of standing with you is right.Every wife should be like Tanuja.
Tanuja:Thanks Rishi for understanding it.
Rishi smiled painfully:I will pray for both of you.I am leaving.
Subbu was upset.
Subbu:Ok you can leave Rishi.But Rishi..if I die you should not allow Tanuja to be alone.You should hold his hand.Promise me.
Tanuja was stunned.
Rishi:I promise.But nothing like that will happen.I will pray for both of you.
Rishi looked at Tanuja.
They shared an emotional eye lock.
Jannatein agar yahi
Tu dikhe kyon nahi
Chaand suraj sabhi hai yahaan
Intezaar tera sadiyon se kar raha
Pyaasi baithi hai kab se yahaan

Hamari adhuri kahani
Humaari adhoori kahaani…
Hamari adhuri kahani
Humaari adhoori kahaani…(Humari adhuri kahani).
Rishi left painfully.
One morning…
Tanuja was shocked to see Subbu lying lifeless with blood flowing from his nose and mouth.She screamed crying:Subbuuu…
The post Laal Ishq3..Red Love…RoSId,DhEera,TanShi,SamAya,Siddharth Puri-Helly Shah SS Part 8 appeared first on Telly Updates.
This post is auto generated. All Materials and trademarks belong to their rightful owners, all materials to their authors. If you are the owner of the content and do not want us to publish your articles, please contact us by email – [email protected] . The content will be deleted within 48-72 hours.( maybe within Minutes)